This event has ended.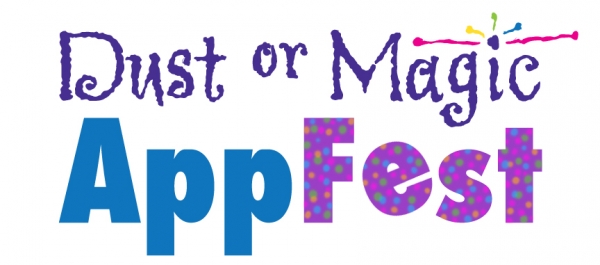 Dust or Magic Children's AppFest is a free, public event dedicated to the dissemination of ideas among children's media publishers, reviewers and researchers.
Because it takes place right before the Dust or Magic Institute, many of the Institute participants use it as a way to learn about current practice.
Despite the word "app" in the name, any interactive media product or project can be demonstrated or discussed.
Children's AppFest lasts 3 hours, from 2 to 5 PM.
It is followed by a review of the year at 5 PM in the Riverside room.
Children are welcome to attend.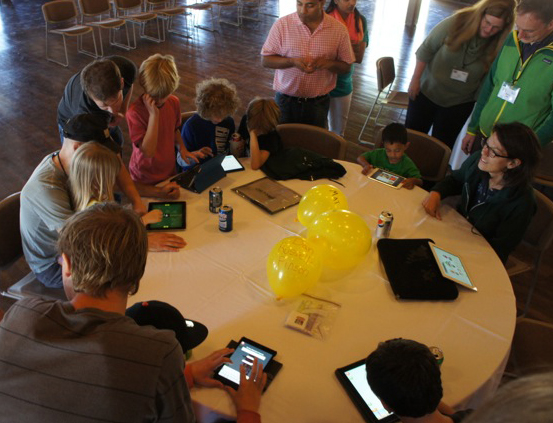 IDEAL FOR REVIEWERS, PUBLISHERS AND CHILDREN
Dust or Magic AppFest is the affordable warm up act for the Dust or Magic Institute, to be held upstairs (Nov. 2-4) at http://www.dustormagic.com/institute
HOW IT WORKS
People are divided into two categories: Demo Givers and Demo Takers. Demo Givers take a balloon, write the name of your title on the balloon and put out a tablet. You might want to have business cards or a one page handout with some free download codes, so people can learn more about your work. This is an excellent place to get discovered, as several of the Dust or Magic speakers will be Demo Takers. Children will also be onhand.
People (and kids) who want to get a demo will look for balloons. Feel free to bring snacks for th kids (please avoid peanuts or nuts; let us know if there are any other special needs regarding diet. We'll try).
NOTE Overt selling is not permitted -- this is about sharing and testing. There will be a table for flyers or PR materials and anyone is welcome to leave anything.
At 5 PM, we'll present a "State of the Children's App" where we may show a few examples of "dust" and "magic" and provide a preview of the agenda, below. Children may find this part of the day a bit dry, so please plan accordingly.
WE CONCLUDE AT 6 PM, when the rest of the Dust or Magic attendees go to the banquet.
This event is free and public, but limited to 80 on a first-come, first-served basis.
QUESTIONS: warren @ childrenstech.com (about programming)
Guest List

Pixure Books

---


The flying squid.

---


KinderTally LLC

---


smartypal

---


Silver Bay Labs

---


The Melody Book

---


Math Galaxy

---


Diversity In Apps

---


Battleground 2016

---


Udovic Design LLC

---


Udovic Design LLC

---